History of Gramotki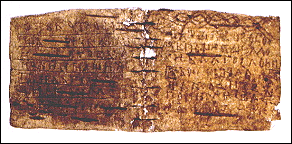 Gramotki evolved in 11th Century Russia as the name for pieces of birch bark that were used for note taking and letter writing. With the appearance of System 7.5, Gramotki re-emerged onto the Macintosh. We recognize Apple's Sticky Notes to be an excellent and stable desk accessory. But we also believe, through our research, that the expectations of Gramotki users over 800 years ago would require a bit more utility along with more exploitation of the vast capabilities of the Macintosh.
Historical research done by the Troy Magazine staff set the stage for a Gramotki resurrection in the Russian tradition. We defined the criteria that would make a modern day Gramotki appealing to both Gramotki users of the year 1100 AD and today's savvy Macintosh users. And so, today's Gramotki is alive with features and efficiencies to support the widely diverse members of the Macintosh community. During our early research and development our friends and colleagues from other companies began to notice some strange coloured rectangles on our desktops. Many of them asked to have Gramotki as well; and thus the decision was made to develop Gramotki as a commercial (actually "shareware") Mac application! Our friends quickly became Gramotki users.
Beginning in the Russian language, Gramotki has been translated into English and Spanish as it continues to evolve into an important application that exploits the Mac's ability to perform tasks not possible on other computer platforms.
Since that new features have been added, but Gramotki continues to remain small and efficient for a wide range of functions and features, thanks to its task-oriented design. Likewise, care has been taken to avoid undesirable features that would otherwise cause "bloating" that unfortunatley characterizes many enormous commercial applications today.